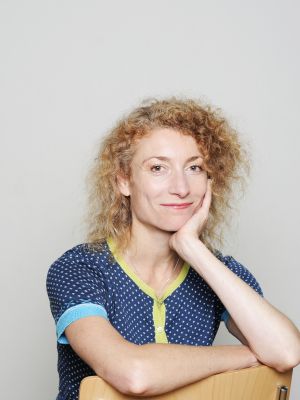 I teach... Body Mind Centering (BMC) for adults and the classes Baby, Let's Dance and Creative Children's Dance from 4y.
I dance because... I have been doing it passionately since I was a child. Dancing makes me happy. I feel alive, free, in the flow of life and in the expression.
I pay special attention to... the flow of the movement and that it feels organic and finds its origin within.
This song always gets me moving... "Masâr" by Trio Jordan.
Has had a particular impact on me... the french choreographer Dominique Bagouet and several of his dancers were very important to me. His work is still incredibly and very inspiring for me, as this dance enlivens the space and becomes part of it.
The best place to dance for me is... In a beautiful studio with a wooden floor, a meadow outside, a forest, an open stage.
A key moment in dancing for me was... when I discovered contemporary dance at a summer workshop because it touched my heart so much. It made me change the direction of my training (originally ballet). But also an encounter in dancing that feels magical, where freedom, inspiration, dialogue suddenly arise on their own and everything around it disappears.
I would like to pass on to my course participants... the the happiness of freedom in dancing, the beauty of the body - how it is built and functions, works and moves. I want to engage to use the own resources for inner balance, to express inner strength and peace, and communication.
This is what I look forward to every year... to see my participants again after the summer, to offer workshops of several days, to accompany and admire each other's babies in their development, the atmosphere of the Potsdamer Tanztage, the constant discovery and exploration, the endless learning thanks to my participants.
Odile Seitz was born in France in 1973. She works as a practitioner for Body-Mind Centering®, dancer, choreographer and dance teacher and Naturopath for craniosacral therapy and osteopathy methods. Since 2019, she has been an instructor in the licensed BMC® programs and part of of the lecturer/organizer team at Moveus, the German Certification Program. She teaches at the fabrik Potsdam and at the School of Dance and Choreography in Berlin as well as national and international dance festivals such as ImpulsTanz in Vienna and Bielefeld. As mother of three children, she is particularly interested in working with pregnant women, as well as parents and babies or children.
current classes at the fabrik:
Mon 15:30-16:30 Creative Childrens Dance [4+]
Mon 16:30-17:30 Baby, let's dance [1,5-4]
Tue 20:00-21:30 Body-Mind-Centering and Dance