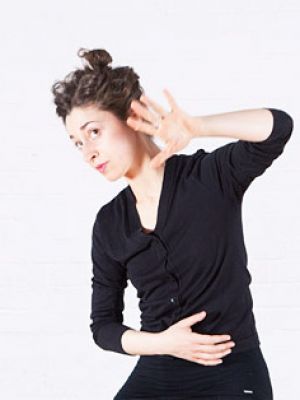 I teach... Dance 55+, Creative dance 55+.
I dance because... it makes me happy, I experience the present: I am through dancing at the moment with my whole being and body.
I teach these courses because... I am interested in working with different groups / different physicalities. In addition, it is important to me to let all possible people get to know dance because dance has such a power and brings so much to oneself. I also think that diversity is a great source of personal inspiration and a mirror of the world.
I pay special attention to... the respect for one's own body, and at the same time to keep a certain dynamic in teaching. I also try to offer the participants through exercises and awareness the possibility to find their own solutions with their bodies, and especially, in case of injuries, tensions, and physical limitations, to develop positive inner feelings, enjoyment, and interest for the new.
This song always gets me moving... many songs are beautiful... I explode on funky music! :)
As a teacher, I was especially influenced... The contact with different people, of different ages, physicality, cultural backgrounds, still shapes my work and my way of thinking and being. As teachers, I say a big thank you to Maria Grazia Sulpizi, Johanne Bro Castillo, Britta Pudelko and Stella Zannou. As Mentors, I say a big thank you to Raffaella Galdi, Jo Parkes, Rose Calheiros and Fiona Edwards.
The best place for me to dance is... theoretically everywhere. For my classes, I like bright, spacious dance studios with wooden floors or black soft dance floors where the body feels invited to lie, sit, stand etc.
A key moment in dancing was for me... the beginning of my career. I fell in love with dance and that motivated me to go on.
To my course participants, I would like to pass on... to bring consciousness and presence to the body. To dance with joy at the moment, to have fun with others, to open physically and mentally so that one can get more inner peace.
Every year, I look forward to... finding new ideas for myself and my participants, also with the aim of choreographically creating something new.
Alessandra Lola Agostini completed her studies in pedagogical psychology with a thesis on Pina Bausch at the University of Genoa; she has studied theatre and dance in Italy (Auroville, Centro Mojud) and Berlin (Tanzfabrik, UDK). She currently works as a freelance dancer and dance pedagogue in various projects with a focus on contemporary and modern dance. She has danced for Jo Parkes, Company Tanzfähig- Evelyne Wohlfarter and several freelance productions. As an artist, she worked for TanzZeit and Lebenshilfe.
current classes at the fabrik:
Wed 09:45-11:15 Dance for creatives 55+
Wed 11:30-13:00 Dance 55+