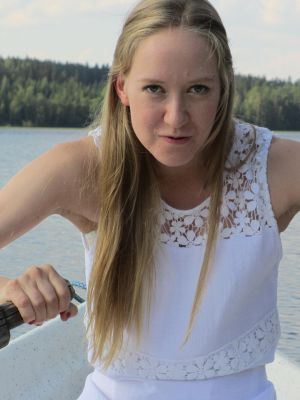 Serja Vesterinen, born in Finland, is a versatile dancer, choreographer and dance teacher.
In 2015 she completed her training in stage dance at the state-approved school SOZO visions in motion in Kassel. During this training period she developed her professional dance technique and an expressive stage presence. At the Stage School Hamburg she acquired additional skills in acting, musical singing and musical dance. In 2017 she received her certificate as dance teacher at SENECA INTENSIV in Berlin.

Since April 2017 Serja Vesterinen has been developing various dance theatre pieces together with her colleague Svetlana Smertin as part of their joint company "Miteinander" (Together), which have been shown mainly in the Kassel area.

She has already gained experience in teaching at the Tanzwerkstatt Kassel and at TanzEtage Korbach where she worked as a dance teacher for two years.

Since August 2019 Serja Vesterinen has been working in Potsdam and Berlin as a dance teacher, freelance dancer and choreographer. Her work focuses on improvisation, musicality, creativity and a playful approach. She has many ideas and is always looking for new ways to expand her teaching material and to convey it in an interesting way. For her it is important to create a positive atmosphere full of trust in her lessons.