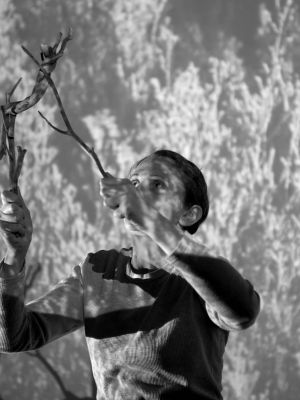 Cinzia Schincariol grew up in a small village in Italy, close to the mysterious river Livenza, surrounded by chickens, dandelions, butterflies and open fields. From the year 2000 onwards, her path led her from Italy via Ireland to Australia.
Since 2013 she has been living as an independent artist between Berlin and Adelaide, continuously exploring her practice, which is fundamentally based on embodiment, artistic expression, negotiation of space/time, accessibility, compassion and the natural environment. Through improvisation and real-time composition as a framework, she engrosses herself in the body as a process, as a whole, as spirit, as soul, as memory, as landscape, as political body.
Her work is versatile and anchored in the fields of performance, community, health and environment through her use of various media such as dance, movement, voice, drawing, photography and film.
Her fascination for instant composition and performance has been enriched through her studies and work with artists such as Nancy Stark Smith, Adam Benjamin, Alito Alessi, Nita Little, Katie Duck, Dianne Reid, Marisa Brugarolas, Rosalind Crisp, Andrew Morrish, Vangelis Legakis, Frank Van de Ven, Alessandro Sciarroni, Deborah Hay, Paolo Cingolani, Julyen Hamilton, Jan Burkhardt and many others.
In 2013 Cinzia discovered working with babies, children and their parents. Because of this enthusiasm she is currently completing the IDME program (Infant Movement Development Education) at the School for Body Mind Centering© and a certificate in play therapy.
Cinzia finds inspiration for her work in nature, on cemeteries, in good conversations, through chocolate, Qi Gong, Kundalini Yoga, meditation and in various forms of storytelling. She travels a lot in Africa, South America and Australia. The encounters with people of the First Nation on these journeys broaden her knowledge and her perspective.